Thanks to the generosity of many, our dream of a permanent home is becoming a reality! Learn more about our building project and how you can support continued construction through a gift to our capital campaign.
It's Ours!
In November, we became owners of the parking lot at 885 River Street in Hyde Park.
Demolition
Within two weeks, the parking lot was removed and the ground leveled.
Groundbreaking
In December, the Boston Prep community gathered to celebrate the groundbreaking of our new permanent home.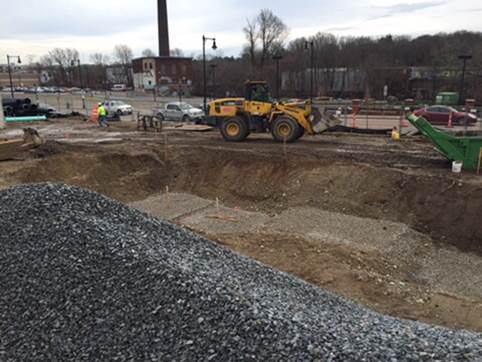 Trenching
By the end of 2015, trenching for the foundation was well underway.
Foundation
Our mild winter allowed the construction crew to lay our foundation in January.
Rising from the Ground
By mid-March, steel beams began rising from the ground.
Topping Off
Soon, we were able to celebrate the traditional Topping Off ceremony as the highest beam was put into place.
Framing Complete
After a month on site, a crane finished up the steel framing.
Windows take shape
In May, hollow metal framing was added to the structure, bringing the exterior walls and windows into view.
Students Tour Building Site
In early June, a group of 8 middle school students redeemed their prize purchased with Prep Points - an exclusive tour of the building site - becoming the first students to tour the new building!
Sheathing Nears Completion
Exterior sheathing is nearly complete, and our new home is coming to life before our eyes!